Testimonials:
Raven Horne, Hickory, NC
Nataliya was so informative and helpful. I greatly appreciated how she would send me pictures of my kitten before I got her and how she would answer my questions before/after I got her. I am so thankful to have a sphynx, the cat I have always wanted since I was a little girl. They are such a sweet and playful breed.
Ashley Dawson, Kinston, NC
Nataliya was very polite and professional in helping me find the perfect feline to add to our family. She was very detailed in all the information she provided. Canvas (formerly named Eugene) has been the most absolute best sphynx ever! We absolutely love and adore her. Thank you so much Nataliya!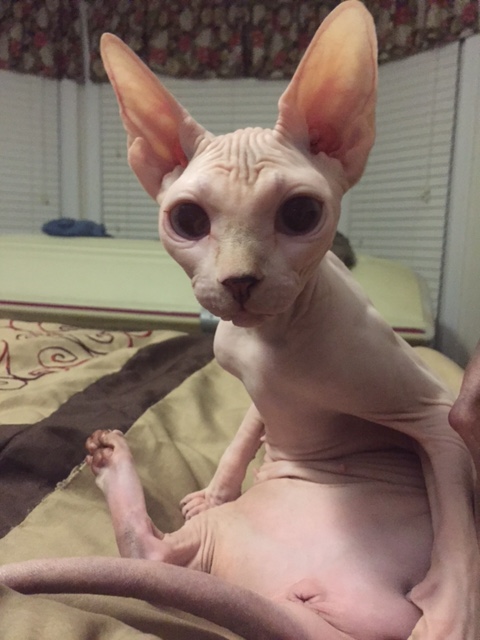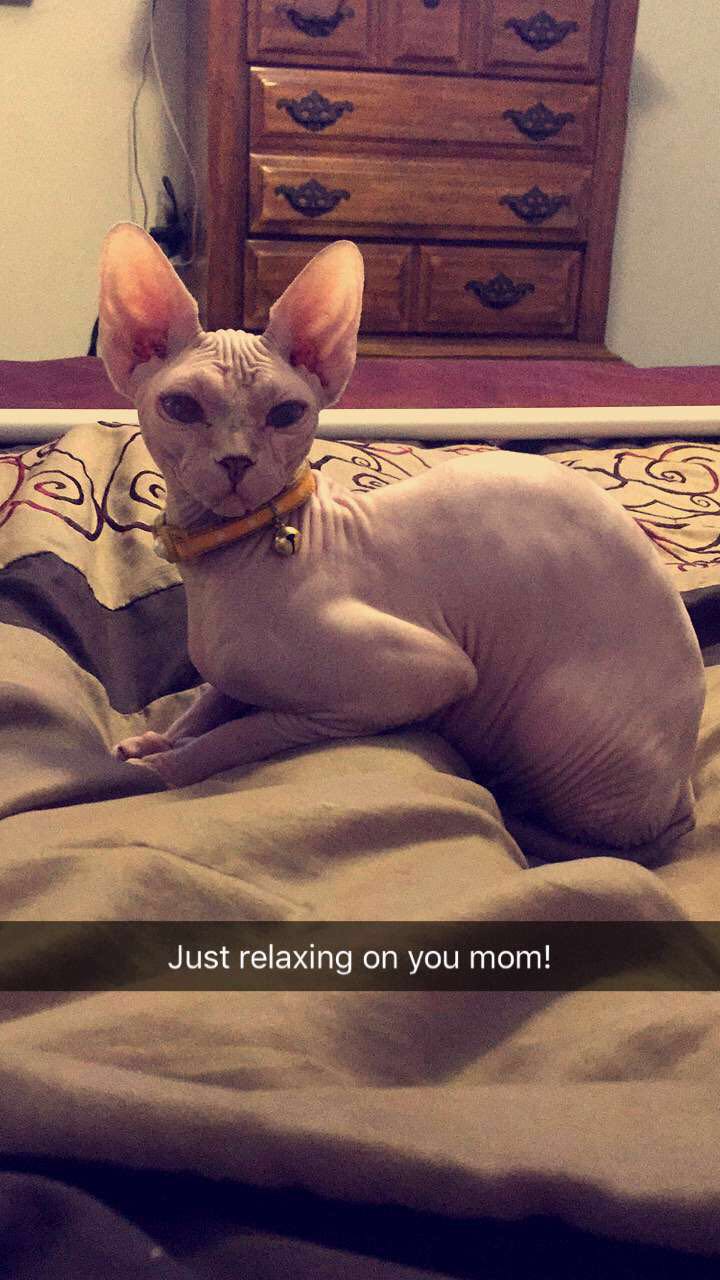 Stacey Kaiser, Wilmington, NC
If you are thinking about purchasing a cat from Sphynx Passionada Cattery do not hesitate! We brought our little girl home last week and she is everything we could have hoped for. She is beautiful, healthy and full of personality. She is a little love bug who gets along great with us, our 9-year-old son and the rest of our pets (a rescue cat and 2 dogs). Nataliya provided us with excellent and detailed information on how to care for our newest arrival and checked in periodically to see how everything was going. If we ever decide to add another Sphynx to our household Sphynx Passionada Cattery will be at the top of our list!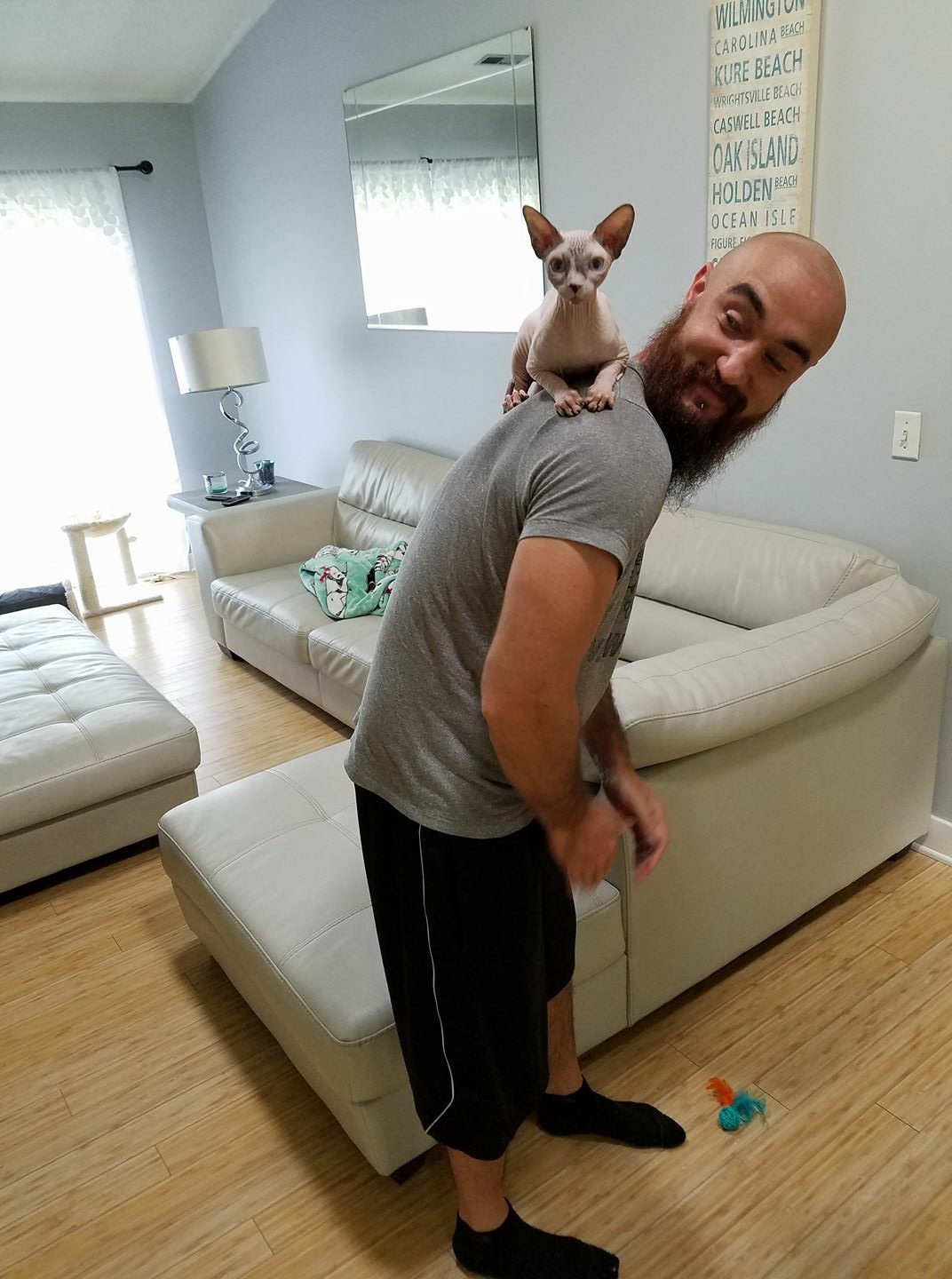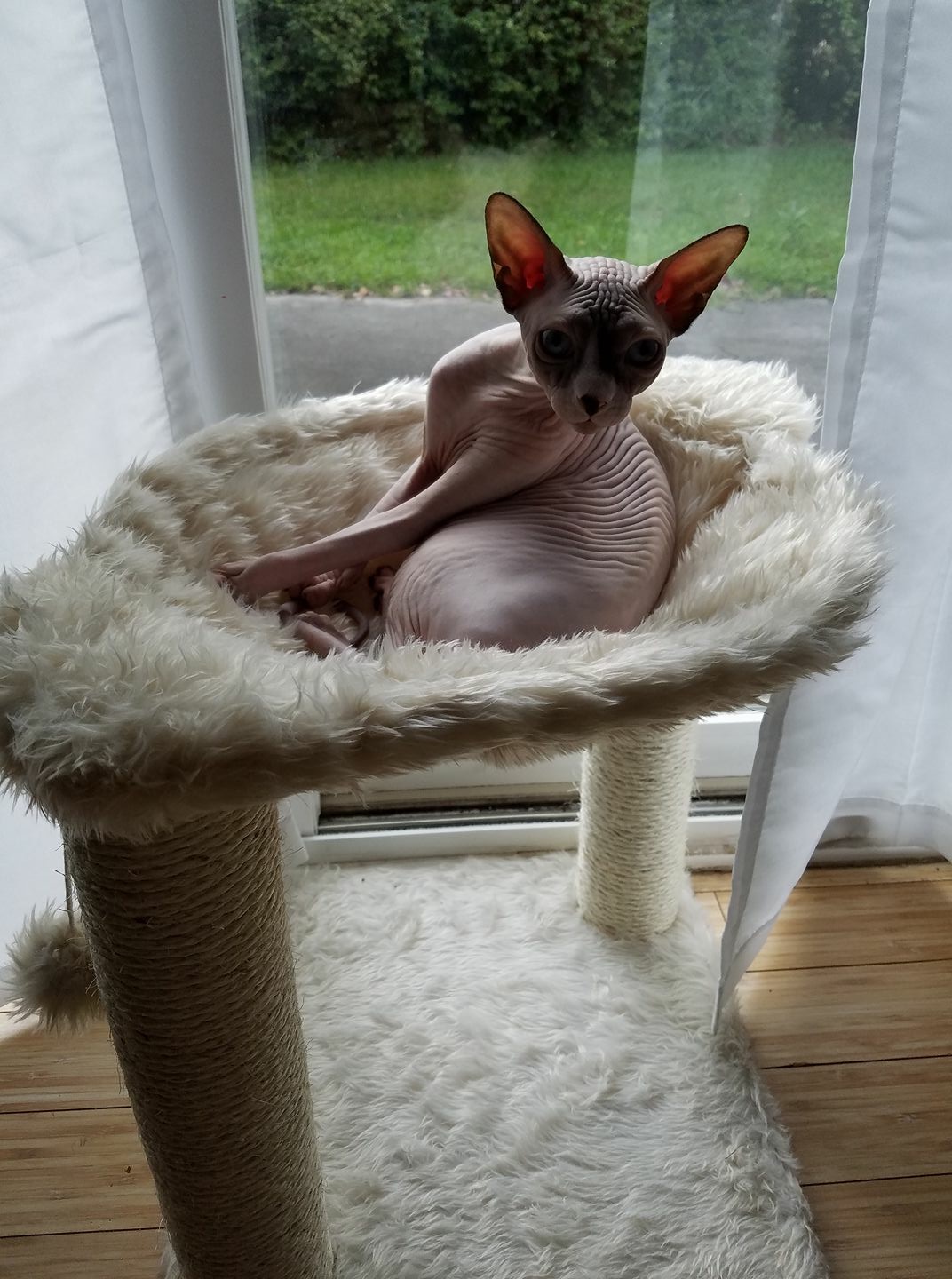 Rosa Elena Perez, Mexico City, Mexico
Exceptional cattery a cherishing breeder no doubt, Vlatka and us are the happiest, excelente advices and we felt accompanied during all the process, thanks for everything.
And then, She decided going to live in México!!Since Vlatka arrived, everyone in the house is happier!! She's got the best personality ever, thank you very much for allowed her into our lives.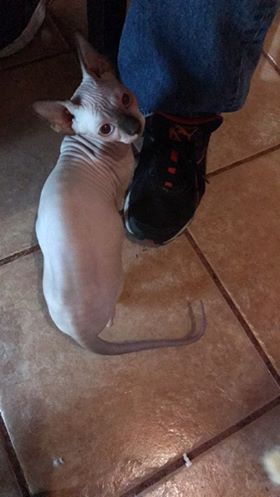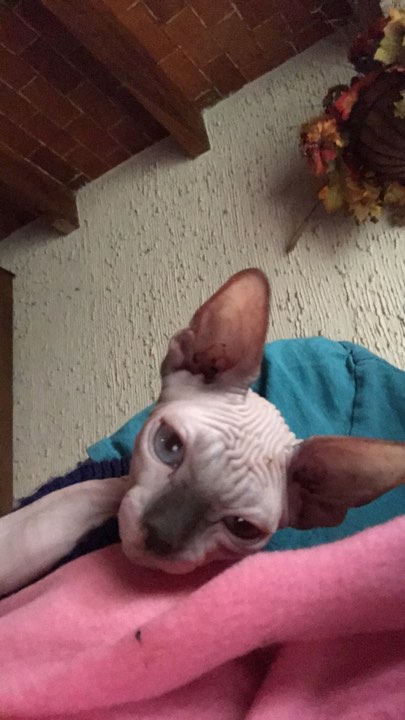 Steven Km, Charlotte, NC
Beautiful sphinx cats! Our boy has such a sweet temperament and very loving!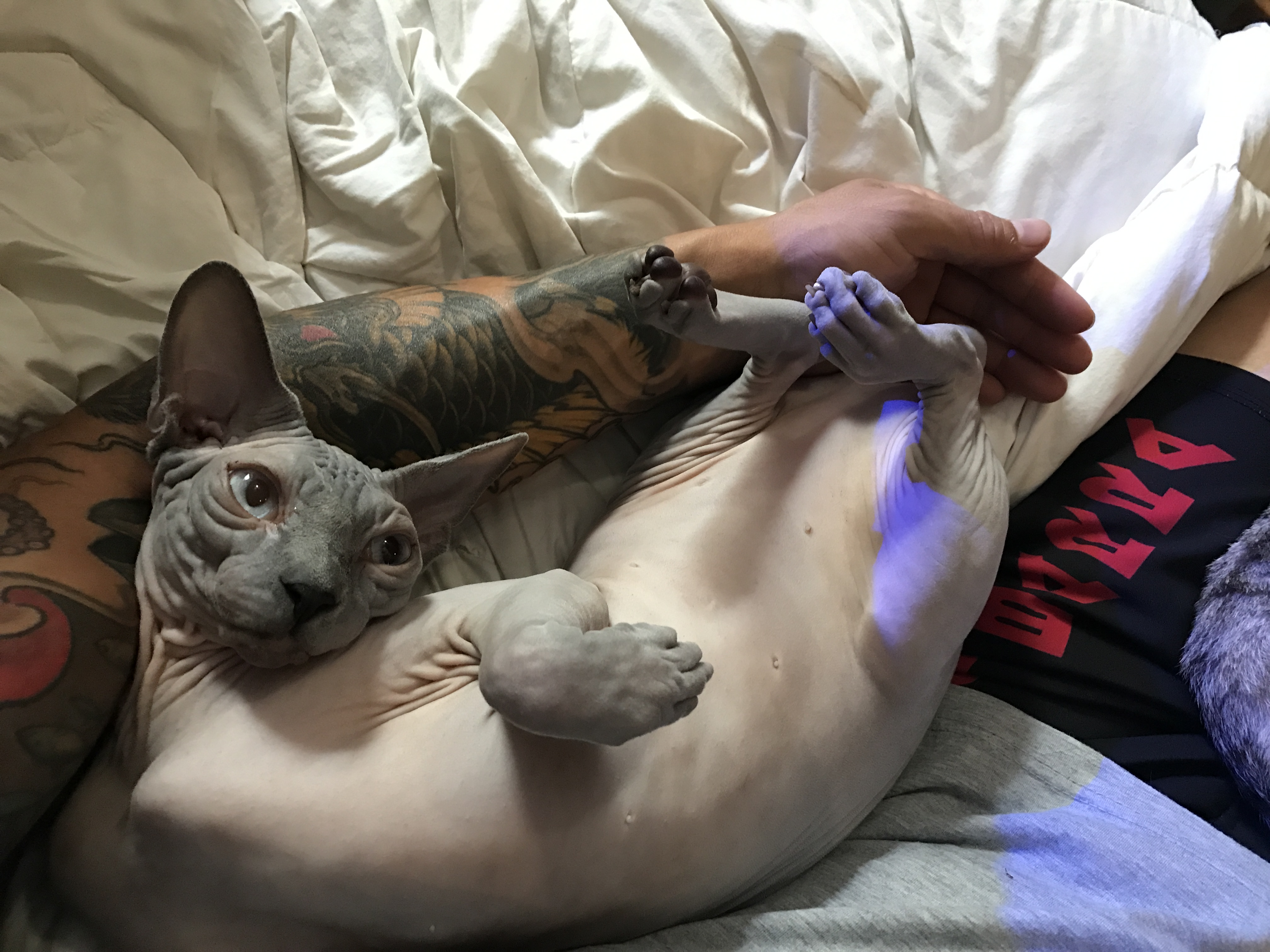 Sarah Smith, Myrtle Beach, SC
My husband and I are very pleased with Passionada Cattery!! Our kitten was adorable and super loving the minute we got her!! Highly recommend to anyone looking for a kitten! She took very good care of her and educated us on a bunch of things about the Sphynx breed.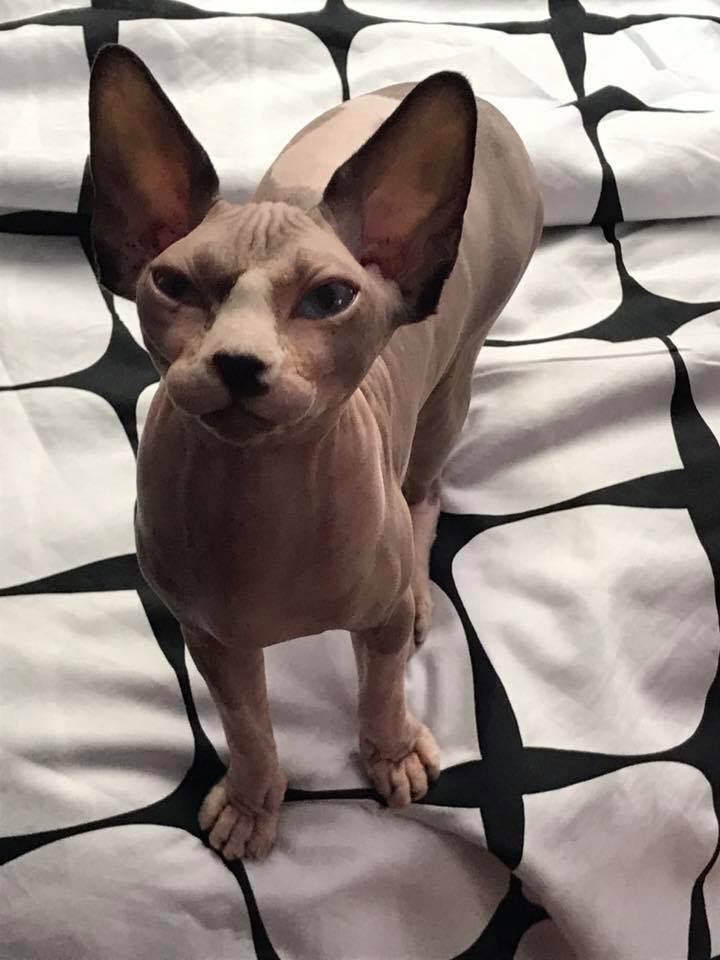 Kayla Hatchell, Philadelphia, PA
We looked for a reliable place offering healthy cats for a long time and were blown away by the great experience we had with Passionada Cattery. We love our little boy so much and couldn't have asked for anything more. Tons of information, updates, tips, even a facetime to ensure we were happy. Highly recommed!!!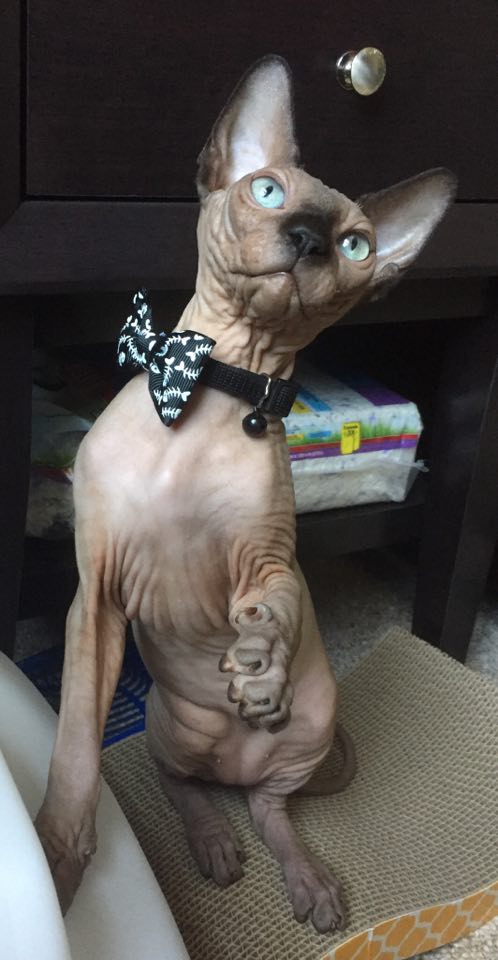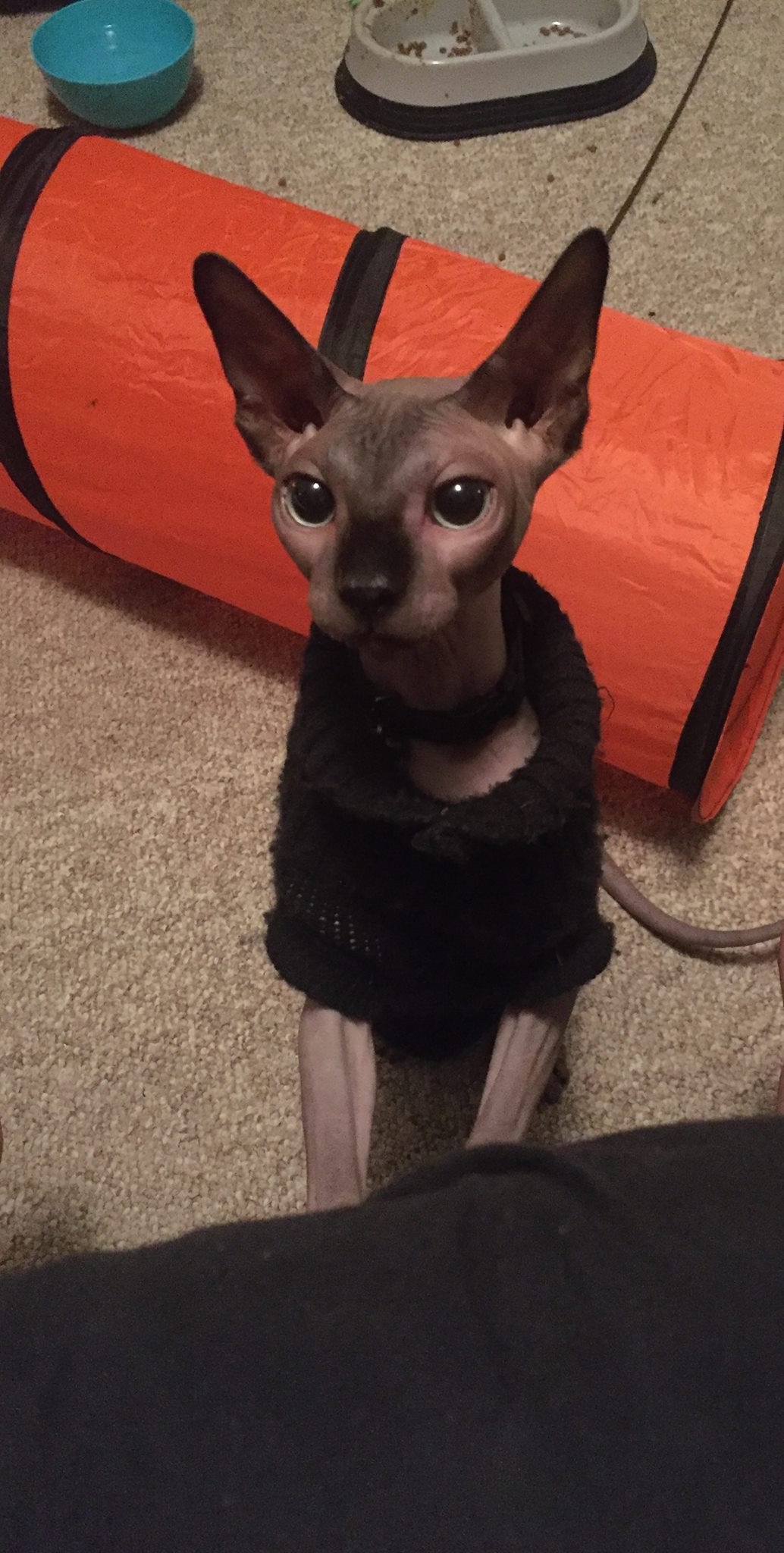 T.J. Haris,  Virginia
After doing a ton of research to find a reputable breeder I came across Passionada Cattery. Nataliya clearly is very knowledgeable about the breed, and is very caring. She sent us tips ahead of time to help prepare us for Scarlett No'Haira's arrival. She is very passionate and professional breeder, and it shows in how well she takes care of them. Scarlett was very well behaved from the first day we got her home, and is now running our household, and we love every minute of it. We highly recommend Passionada Cattery if you are looking for a quality pet to add to your home.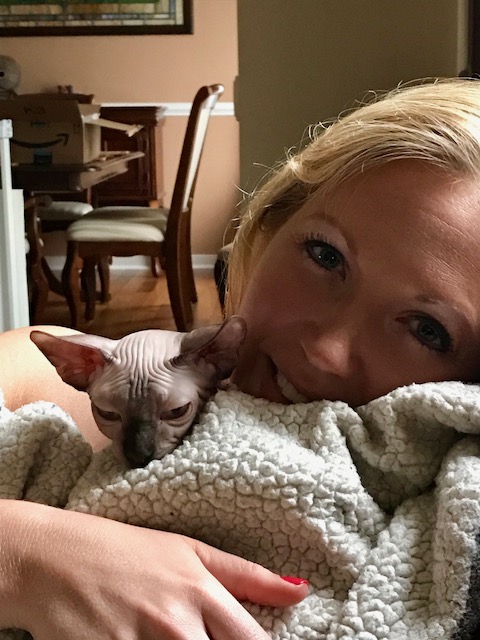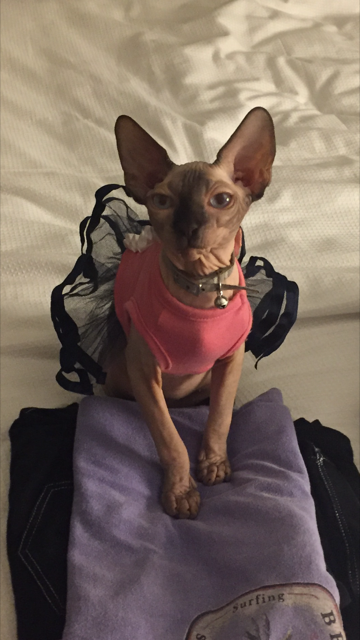 Jessica Roten, Mt Airy NC
Natalyia,
We have had our Sphynx, Finn, for almost 4 months now. He has been an absolute delight! I am so pleased with our decision to purchase from your cattery. I really appreciate your quick responses, Facetime "meet and greet" as well as the plethora of information and resources you provided about the breed. Finn has blended in well with out Weimaraner and Great Dane. He has also been successfully (and easily) trained to use the human toilet. He's such a loving, affectionate, bright and awesome little guy. I especially enjoy our nightly couch cuddles!! I would highly recommend Passionada Cattery to anyone!
Jessica & Daniel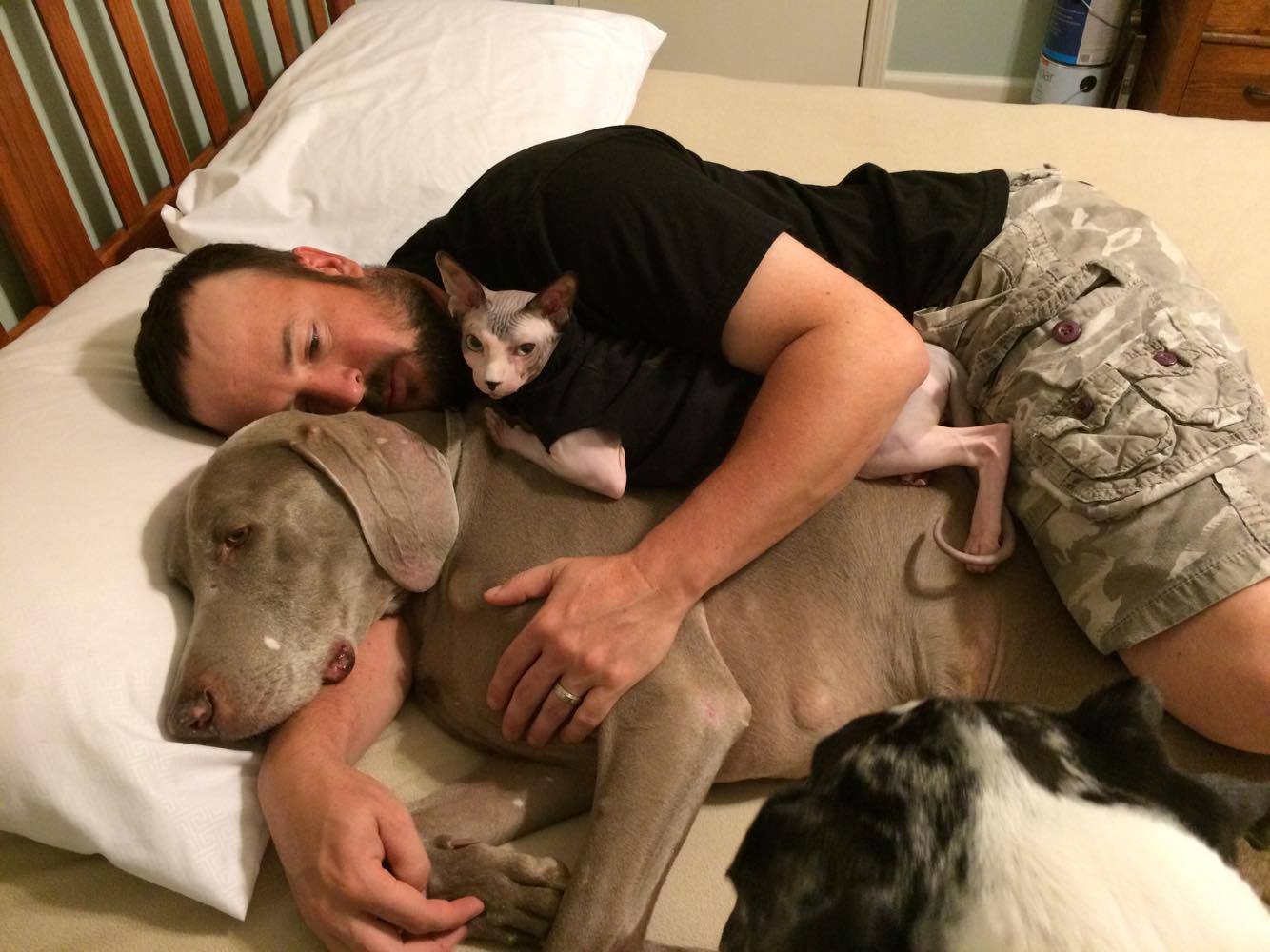 FRANCINE FRIEND, SAN ANGELO, TEXAS
I RECENTLY LOST A SPECIAL MEMBER OF MY FAMILY, ROCK, A 17-YEAR OLD MALE SPHYNX, WHO WAS MY MOTHER'S BABY, AND WHOM I ADOPTED AFTER SHE PASSED AWAY IN 201 1. FORTUNATELY, I STILL HAVE HIS SISTER, BUT THE LOSS WAS VERY DIFFICULT FOR ME AND MY FAMILY.
AFTER AN EXTENSIVE SEARCH ONLINE, FIRST IN TEXAS, THEN NATIONWIDE, I FOUND PASSIONADA CATTERY AND STARTED COMMUNICATING WITH NATAL-IYA ABOUT HER BABIES. I HAD ALREADY SPOKEN WITH A TOP SPHYNX BREEDER IN TEXAS, WHO IS CERTAINLY CLOSER TO HOME, BUT 1 PREFERRED PASSIONADA'S MORE PERSONAL STYLE OF RAISING PREMIUM SPHYNX KITTENS. I'VE HAD YEARS OF EXPERIENCE w1TH QUALITY
SPHYNX CATS, MORE THAN MOST OF THE BREEDERS I CONTACTED, BUT NATALIYA DIDN'T TRY TO DICTATE HOW I WAS GOING TO RAISE MY NEW BABY. So MANY SPHYNX CATTERIES
HAVE BEEN IN BUSINESS LESS THAN 10 YEARS, BUT PROFESS THEIR EXPERTISE AND
DEMAND CONTRACTUAL OBLIGATIONS FROM THE BUYERS BEYOND REASON. So, I DROVE ROUND-TRIP FROM TEXAS TO NORTH CAROLINA AND BACK, FOR A BEAUTIFUL 3-MONTH OLD BABY BOY, I'VE NAMED COLUMBO.
HOWEVER, IF YOU ARE A FIRST-TIME SPHYNX PARENT, NATAL-IYA WILL PATIENTLY TEACH YOU THE UNIQUE CARE THESE BABIES REQUIRE SO YOU ARE COMFORTABLE WITH THE CARING OF YOUR NEW KITTEN. SHE IS ALSO AVAILABLE FOR AS MUCH GUIDANCE YOU WANT OR NEED IN THOSE IMPORTANT FIRST WEEKS AND MONTHS AFTER ADOPTION.
I ALSO WANT TO MENTION THE QUALITY OF HER KITTENS. I TOOK MY NEW BABY TO MY DVM IN SAN ANT0N10, WHO IS RENOWNED IN TEXAS, AS HE IS MOST IMPRESSED WITH HIS DEVELOPMENT, PERSONALITY, EARLY CARE AND ATTENTION, INCLUDING HIS VACCINATIONS, FEEDING. ETC. HE PERFORMED PRELIMINARY DIAGNOSTICS AND ALL CAME BACK CLEAR.
So, I WANT TO EXPRESS MY WHOLE-HEARTED RECOMMENDATION OF PASSIONADA AND THEIR SPHYNX CATS. YOU WILL TREASURE YOUR NEW BABY AS MUCH AS 1 HAVE.
Heather Sheehan, Wilmington NC
Hello dear, touching base with you about Oregon, new name is Dobby! I have never loved a cat more than Dobby, he is so social and has blended in so well! He absolutely loves my husband and when he walks in off a trip (pilot) he climbs his leg to get to his face to groom him! He sleeps with me every night! I had no clue how social and smart the Sphynx was, so in love with him! He has never marked or missed the litter box and his balls(was male breeder and was fixed) are slowly shrinking!!! He will be forever loved in our family! Thank you for blessing our family with Dobby! Love the pictures of all your babies, I have referred you to several people in the Wilmington area! Excellent breeder of these gorgeous cats!
I can recommend you and your babies 200% beyond quality Sphynx's that are so healthy and well socialized! If I didn't have triplets I would buy another one! Top of the line breeder, something extremely hard to find these days, unfortunately! Thanks for blessing us with Dobby, he is spoiled more than my children!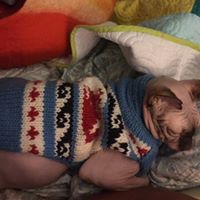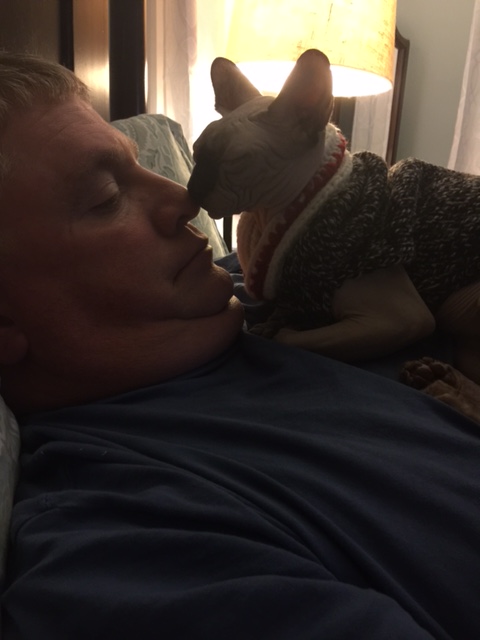 Denise Eller, North Carolina
Nataylia is a wonderful breeder. She knows what shes doing and takes pride in her babies. If anyone is interested in a baby, this is the place to go. So glad i did. My baby girl is perfect!
If I could give this more than 5 stars, I absolutely would. First off, Nataliya is amazing, she is passionate about her cats, and she does a phenomenal job raising them. We just picked up our boy, Tito, on Thursday. He is the most chill, happy, affectionate, and sweet little baby-we could not love him more! He is absolutely perfect, and STUNNING- he is absolutely hairless, even his EARS, he has GORGEOUS baby blue eyes, and the cutest little face. I am absolutely overjoyed with this purchase, not only would I recommend Nataliya to anyone looking a sphynx, but I plan to buy another from her, she is the bees knees of breeders- she was in communication with me at all times, she sent me countless pictures, and even a video of him when he got older- she kept me updated, and she absolutely blew my standards with her talent in both breeding and raising the most beautiful cats I have ever seen, and TRUST me, I looked ALOT. I made the haul from Wisconsin to North Carolina to get my boy, and Nataliya was absolutely fabulous about it even with closer options in my range I STILL picked Nataliya, and I will for sure be back for more!!!!!
Thank you from the bottom of my heart, I finally own the cat of my dreams!
Ashley Nicole, Thomasville NC
We had the best experience w/Sphynx Passionada Cattery!!! They have been amazing, giving updates on our kitten, sending pics. &&& videos. You can tell they REALLY care &&& are well educated on the breed. I highly recommend Sphynx Passionada Cattery to anyone, looking to add a Sphynx Kitten/Cat to their family.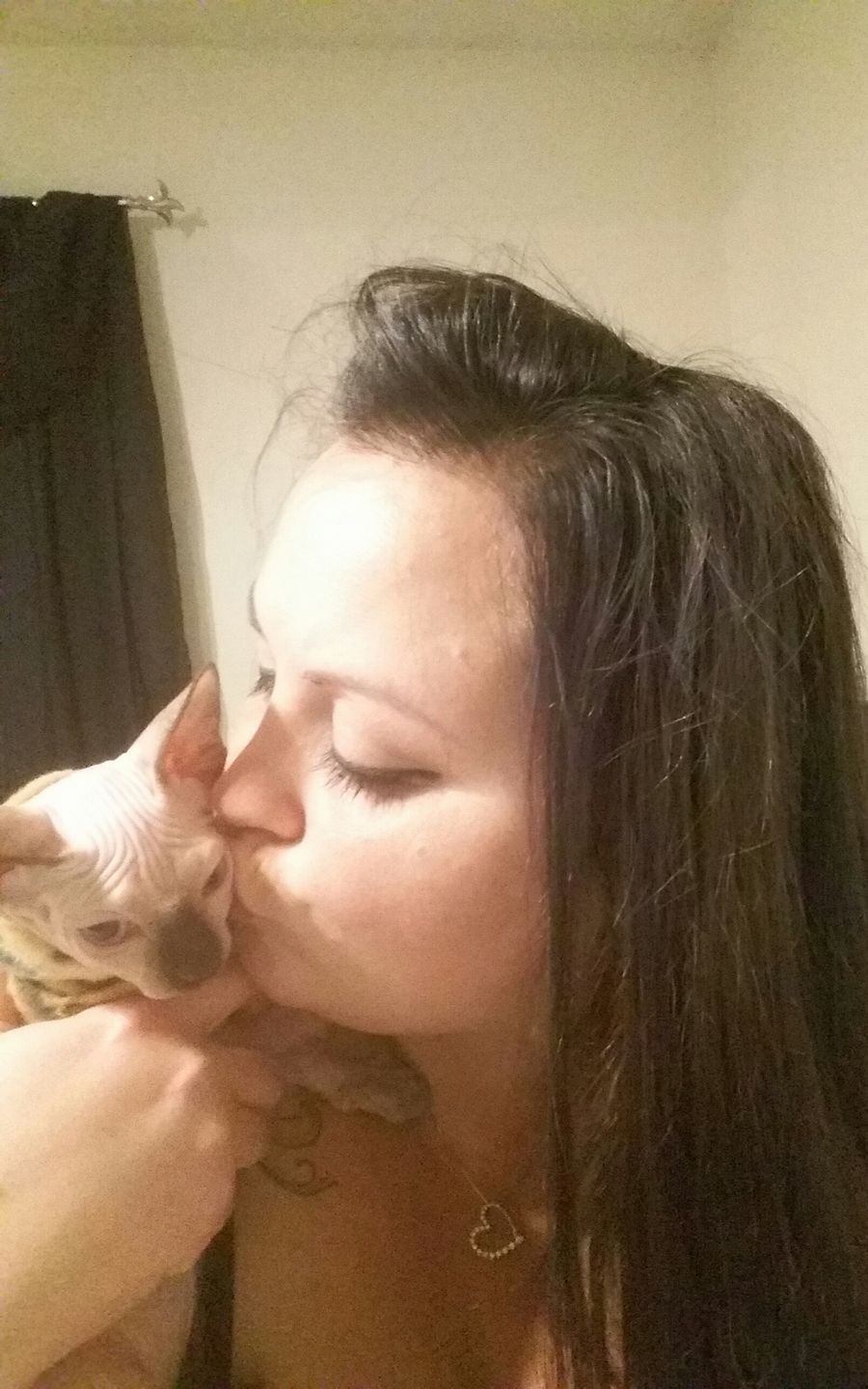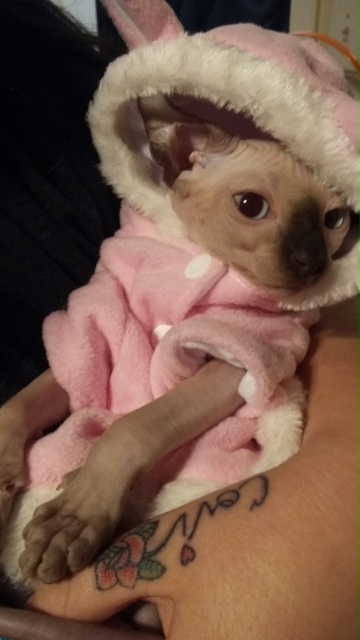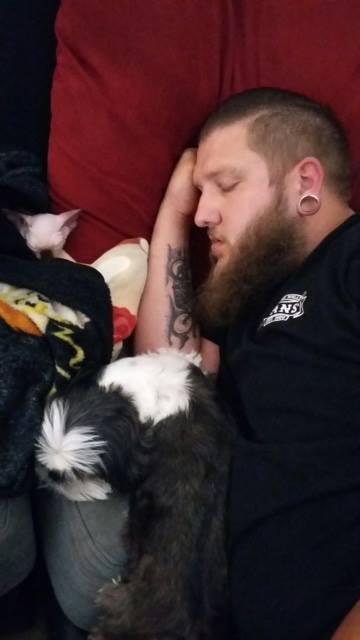 Trista Jane Jarrell, West Virginia
I had a great experience, she is very nice and always replied to my calls an gave me all the information I needed to give Dobby a good home. I would definitely recommend her.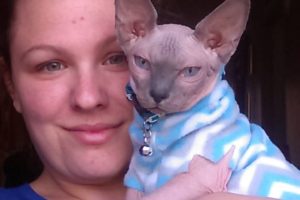 Caleb Sowards, Wilmington NC
Passionada is an amazing find. After thorough research, we found Passionada Cattery which ended up being an unbelievable experience. Sullivan is so full of personality and has brought so much joy to our household. Passionada cattery was awesome with sharing knowledge about the breed and preparing us for this boy, as well as being available for any questions we had. Sullivan can be wild and playful, make us laugh until our cheeks hurt, then the next minute be the most affectionate cat there is. I didn't think anyone could care about their kittties as much as I do, but Nataliya has proven me wrong."
Love our boy obviously. He's wild, and amazing.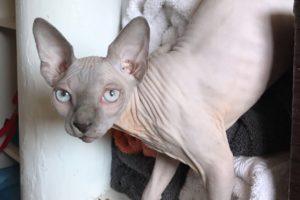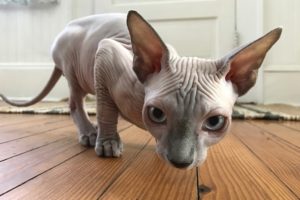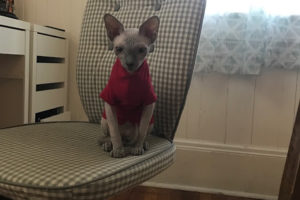 Gemma Vince, Durham NC
I bought a beautiful male blue sphynx (Brams) from here and he is perfect. He settled in well in our home, is curious and affectionate and in great health. Its obvious the breeder cares about the health and wellbeing of their animals and they have been great in following up to check on how he was doing after we took him home.
I was extremely happy with the experience and would recommend to anyone looking to get one of these wonderful animals.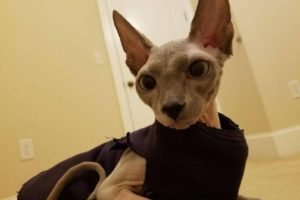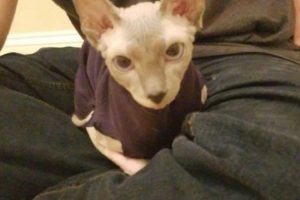 Brent Woodroof, Durham NC
I purchased a male sphynx kitten from Passionada Cattery through Nataliya Rice for a Christmas present for my wife. I was aware that there were numerous scam artists online for this breed, and so I selected Passionada on the basis it was close to our home in Durham, NC. Nataliya was very attentive throughout the process, always responding to e-mails within a few hours– and most of the time within a few minutes. She provided videos and pictures of the kitten in the days and weeks that we waited to pick him up. She even took time out of her own Christmas day to allow me to come pick the kitten up and go over care instruction with me.
She was very detailed in her care recommendations and provided links and pictures for all recommended products, and explained each item thoroughly. The kitten has used the litter-box with no trouble from day one, and in general has far-exceeded my own expectations for how easy it would be to welcome a kitten into our house. I was not at all familiar with the temperament of the sphynx breed, and can only speak to my personal experience, but I find them to be very curious, playful, and affectionate. Given the high-demand of this breed, Nataliya was incredibly flexible and worked with us in order to ensure we would be able to purchase a kitten in time for Christmas. For any friends or family seeking an exotic breed, I will definitely suggest Passionada Cattery and Nataliya Rice. Our experience was flawless, and couldn't recommend her enough.
Brent Woodroof (Durham, NC)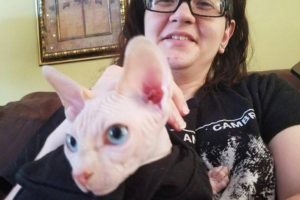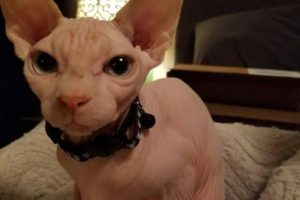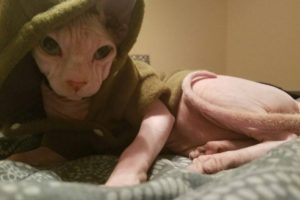 Joni Chaney, Columbia South Carolina
We can truly say that our sweet Lola is the best Christmas present ever!!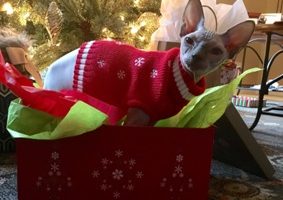 Rick Boza, Florida
"A few short words about our experience working with Passionada and Nataliya.  We had spoken to many other supposed breeders that were more interested in our money than the welfare of the kitten.  Every conversation started with them having moved cross country but they would ship a kitten tomorrow if we sent the money in full via Western Union.
What a difference with Nataliya!  She clearly had the interests of both the kitten and us as the buyer in mind, ensuring a good fit and someone that was willing and able to care for a new cat in the home.  The buying experience was outstanding – Nataliya had all sorts of documentation on what to feed, how much, what litter to use, grooming, healthcare, vaccinations, and many more.  Her thoroughness in the delivery process helped ensure all of our questions were answered and just a wonderful introduction of our kitten to her new home.  If we ever decide to add another Sphynx to our home, Nataliya would be at the top of my list to work with again.  We can't thank her enough for a great experience and a happy, healthy new kitten!" Rick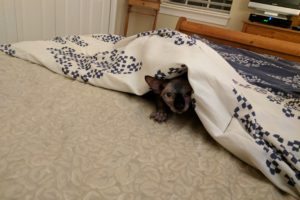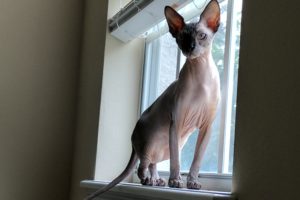 Christen Powell, South Carolina
"I adopted my sweet boy from Passionada Cattery and I can honestly say it's been an amazing experience. Nataliya really goes above and beyond when it comes to her animals. Healthy happy babies are her number one priority as opposed to just trying to just trying to make money. She allowed me to FaceTime the kittens and their parents, told me everything I would need to prepare for my new baby and why, and she walked me through all of his cleaning rituals. She responds quickly to answer any questions I have, including months later when questions arose when trying to switch him to adult food. Lincoln is growing like a weed and is an active part of our family now. He is a happy healthy energetic little guy and loves everyone including our other pets. Adopting Lincoln through the Passionada Cattery has been the best decision and I definitely recommend them to anyone looking to adopt a little furless friend. -Christen Powell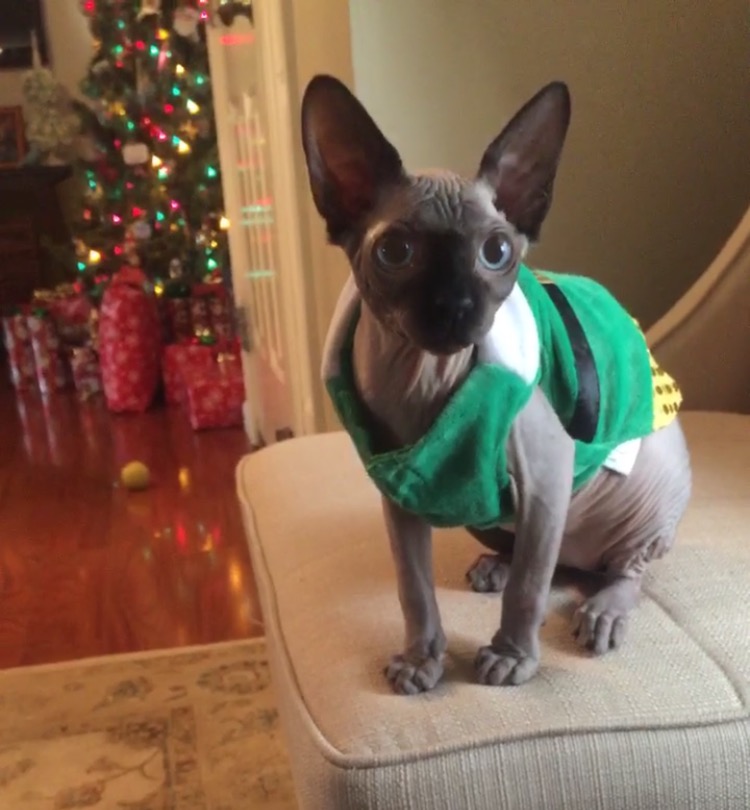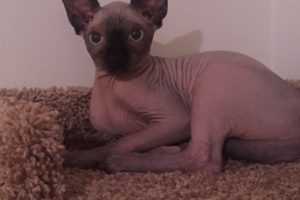 Joni and Roy Chaney, South Carolina
Nataliya,
Lola has done extremely well!!! She did great in her crate yesterday and played hard all evening! We napped together on the couch until Roy came home from work and then she was ready to play again!! She's eating well and knows her way around the whole house already!! We are so in love with her!!!! Thank you for doing such an amazing job at bringing her to her 12 weeks. It's evident that she has been well loved, cared for, and socialized! I'll keep the photos coming!
~Joni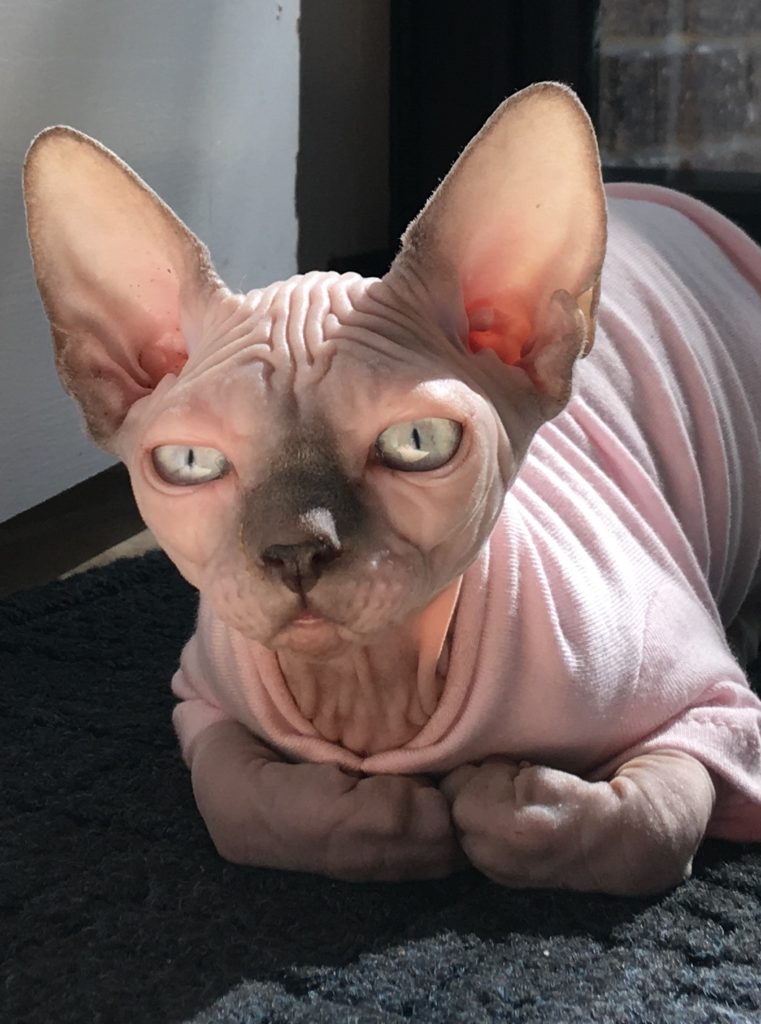 Joni and Roy Chaney, South Carolina
Good Morning! I just wanted to tell you how well Lola did at her Vet visit Saturday1 She was awesome! The Vet said she was very healthy and her tests were perfect! She had her worming done and was so well behaved! She is so beautiful and we love her so very much!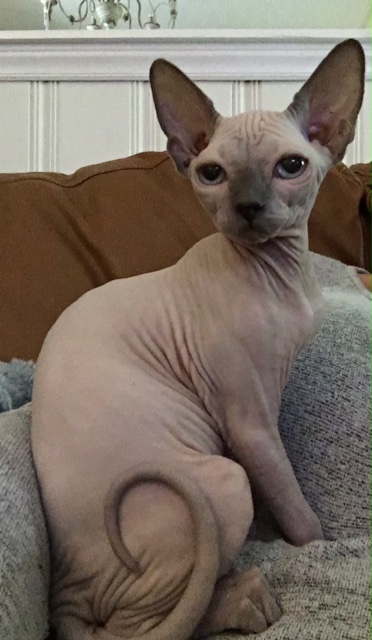 Reid Owen, Raleigh, North Carolina
I've always been curious about sphynx cats. They have this alien look that is both adorable and intriguing. Once I learned about how personable they were I knew it would be a perfect fit for me and my other cat. I read that they are extremely friendly, almost dog-like in personality. This is definitely the case for Smeagol (my sphynx cat). He is the most lovable kitten I've ever met. He and my other cat became friends almost instantly. Though I did make sure to keep them separated at first to get them used to each other's scent. When they finally met, they were playfully chasing each other all over the house that same day.
When I picked him up from Nataliya he had all the vaccinations he could get at that age. I also requested his parents' background to make sure there wasn't any excessive inbreeding. She had all the information and it all checked out. Also, he was completely litter trained. I haven't had a single litter-related accident since I've had him.
Before I left I was given a good deal of information about how to care for him and what products to use. It was very helpful. Nataliya even suggested a vet who has had experience with this breed since there are a few differences with them and other cats. The whole process was easy and I left informed and secure about his care.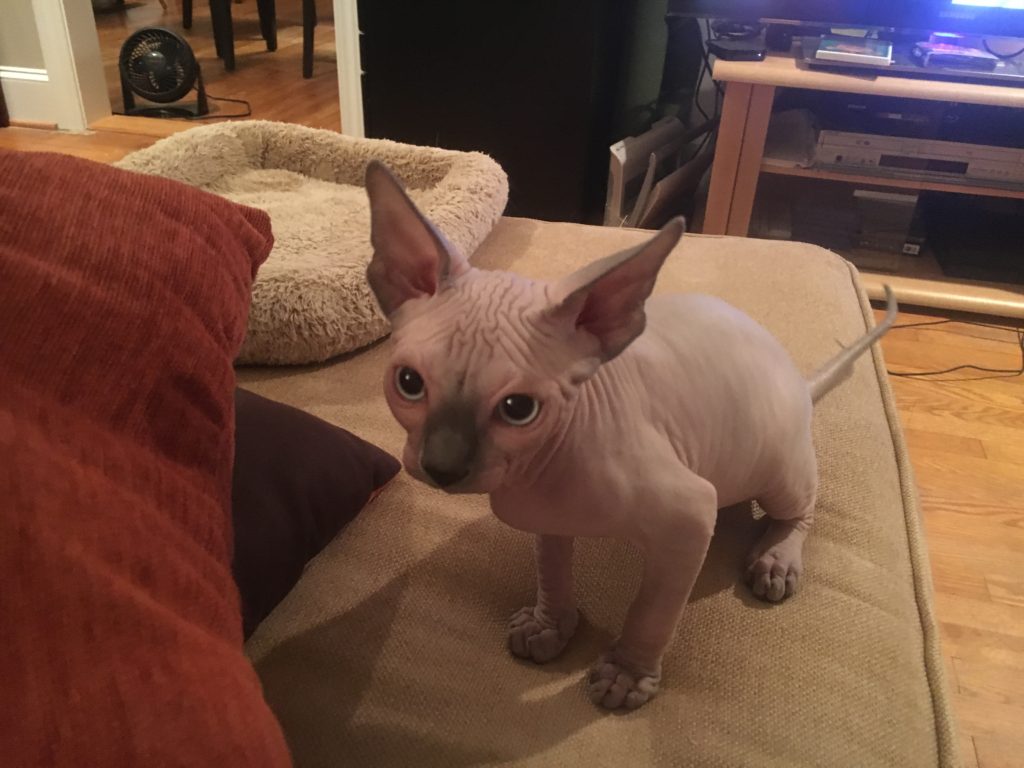 Kristina Kemp, South Carolina
We have been beyond pleased with Nataliya at Passionada Cattery. From the moment we initially inquired about adoption, she has been very helpful, professional, and very responsive to all our inquiries. She gone out of her way to send us additional info and has provided many helpful tips and resources.  From the beginning I could tell how much she cares for and loves each kitten she raises. When we arrived to pick up our kittens, she was very thorough in explaining in detail about proper care and nutrition. We did not feel like we were at a Cattery. There were no pet smells, or any hint of pet odor, and her home was immaculately clean. When she presented our kittens, she showered them with love and kisses. I'm very thankful that she raised them this way and now my kittens adore being loved and snuggled!! Nataliya and her kittens have exceeded all our expectations and her kittens are top of the line, perfect and very well cared for.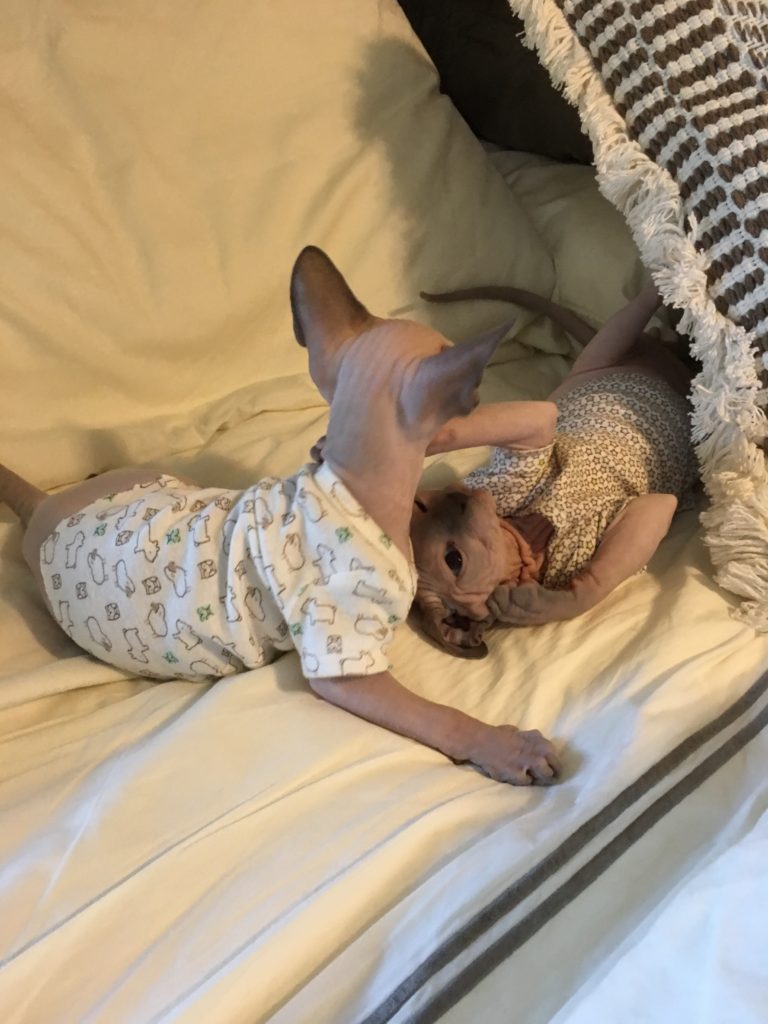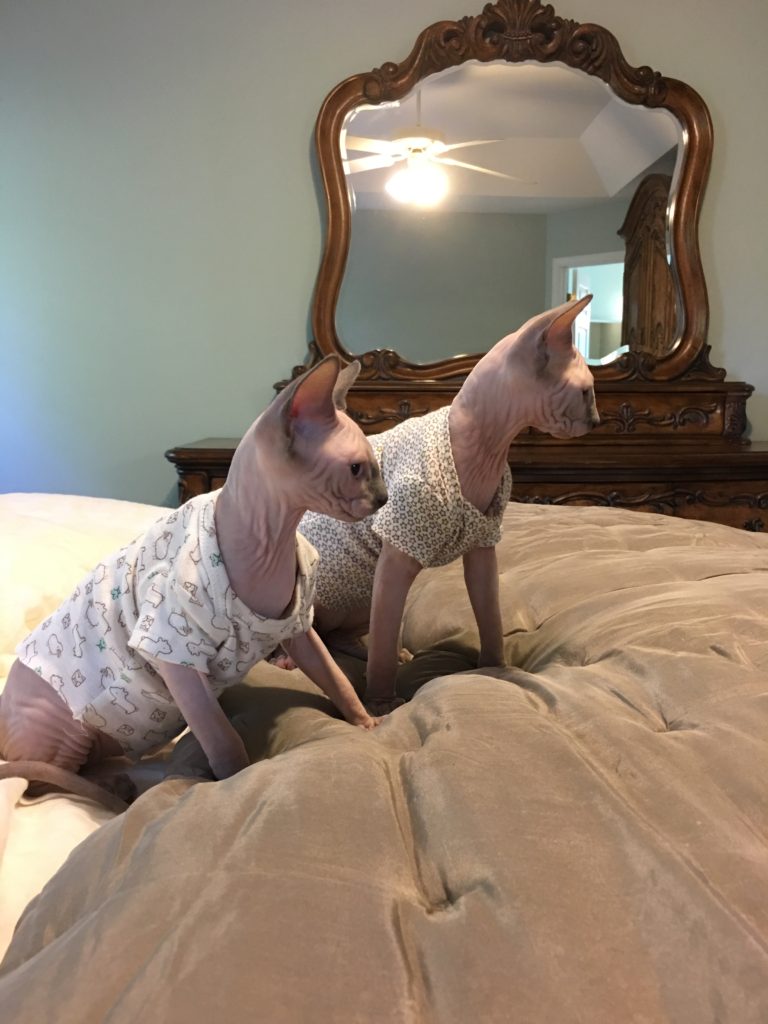 Kristina Kemp, South Carolina
They are great!! They are scheduled for this Friday for their 3rd deworming and whatever else needed and an overall comprehensive well check. Ben is double the size of Lilly now and overall he's doubled his size! Lilly loves being wrapped in her soft blanket and they love snuggle time😸 Ben is often too rough and likes to wrestle and beat up Lilly. I have to separate them sometimes!! I have introduced them to the downstairs now and they love the freedom! Our 2 other cats are still in Charlotte with my husband. We are very happy and are grateful for them. My husband has taken a special liking to Lills as she's so small and he likes to protect her😊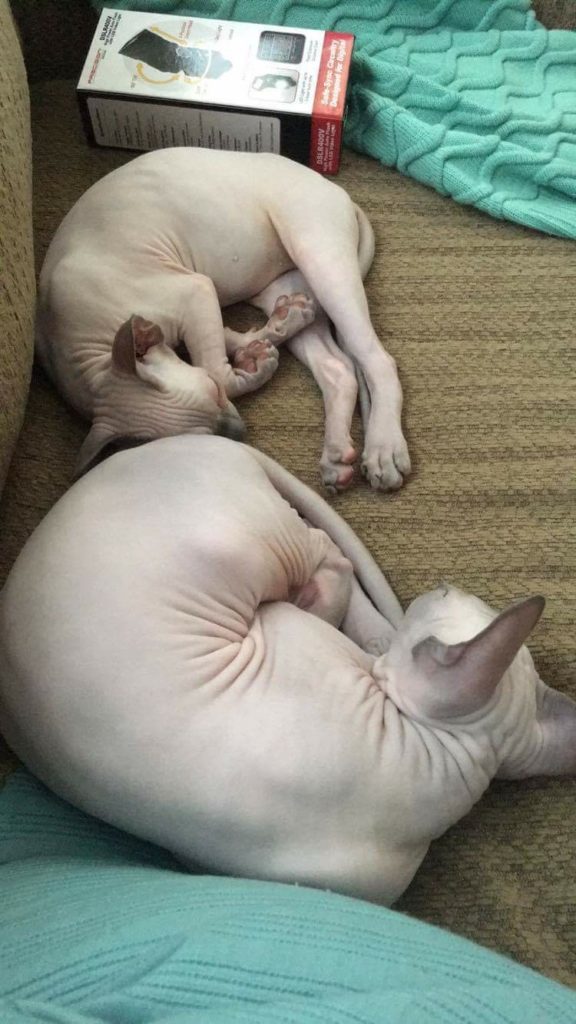 Claudia R. Maryland

Nataliya,
Our little girl Veta is doing fantastic!! She is eating her food, drinking water, and using the litter box. We are so happy with her. We love the breed.  We read a lot about this breed, but we did not expect that Veta is going to be so loving and affectionate.  Thank you very much for her. We want to buy another kitten from you in the near future.
Claudia,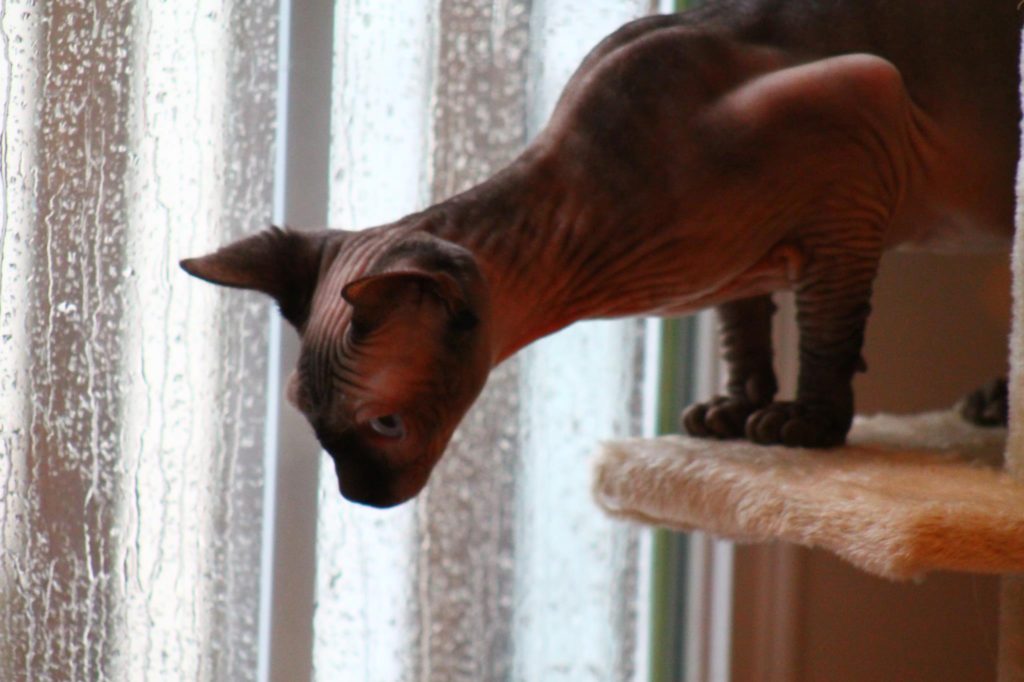 Jack K. and Mary R.  Virginia

This is our first Sphynx kitten. We were not very familiar with the breed. We called Nataliya and she was very knowledgeable about Sphynx cats. She was very detailed-oriented about what they eat, how to take care of them, etc. After we purchased a kitten from Nataliya, we were provided with a lot of support and the tips on what to do and what not to do. We called Nataliya very often and she always returned our phone calls. This is an amazing breed and we are so thankful to Nataliya that she introduced us to the Sphynx world.  We highly recommend to purchase a kitten from her.
Sincerely,
Jack and Mary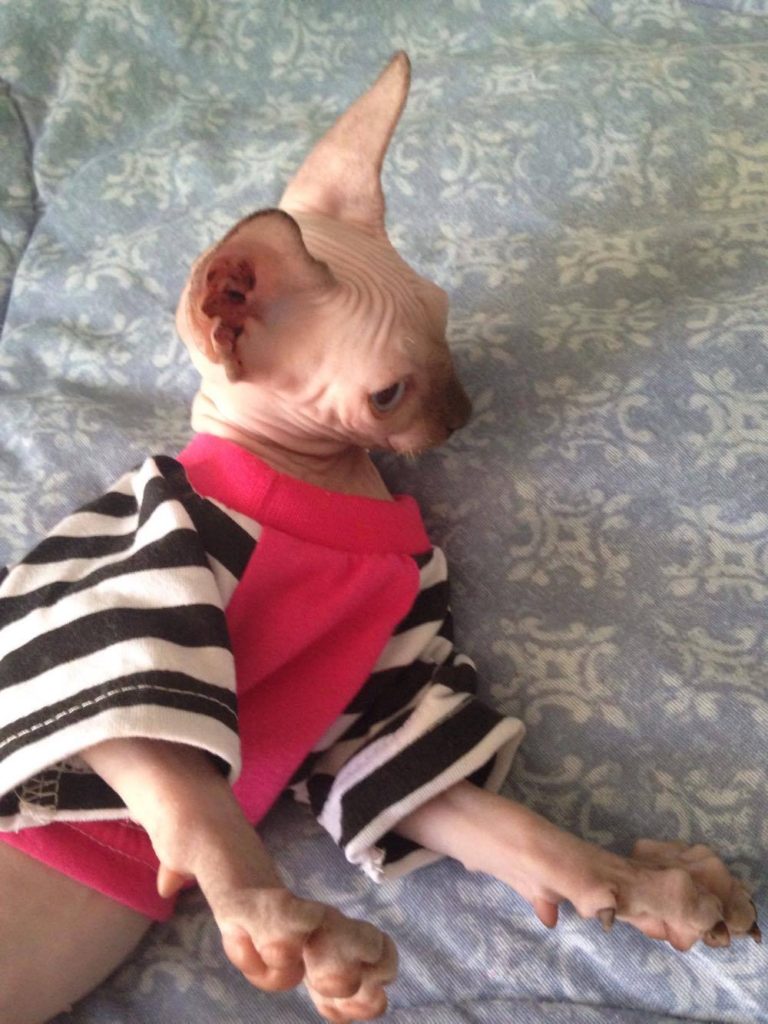 Anna Balakirsky,  Maryland
We had great experience in getting our new family member with help of Passionada cattery and her owner Nataliya Rice. Nataliya is very knowledgeable and very passionate about her cats. She was very helpful and "hold our hands" through every step of the purchase process and beyond. We are highly recommending her to anybody who is interested in acquiring sphynx cats especially for first time buyers.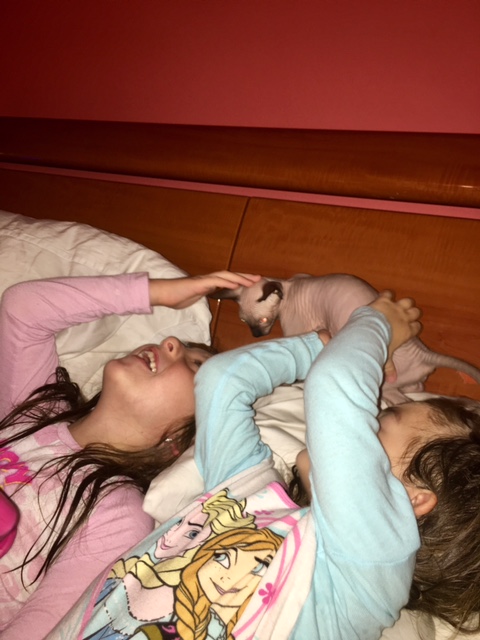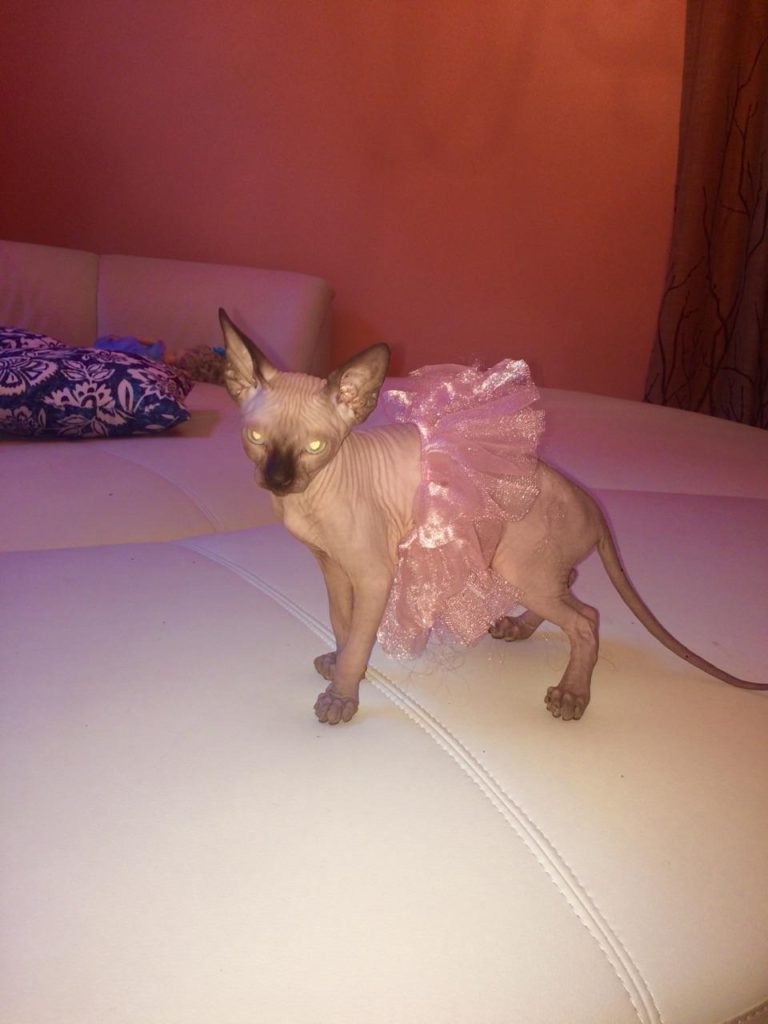 Laura Neumann, Louisiana
I recently purchased a kitten from here and she is beautiful, happy, healthy and very social! I did my research and knew exactly what I wanted in terms of markings, price and characteristics. When I found this breeder, I knew I found what I had been searching for. I live in Louisiana so I had her shipped. Nataliya went out of her way to help my kitten get to me safely. She is a responsible breeder and truly cares for her cats and kittens. It's obvious my kitty was raised with love. I am so thankful! I would highly recommend looking into purchasing your sphynx from here. If I get a second kitten I am definitely coming back!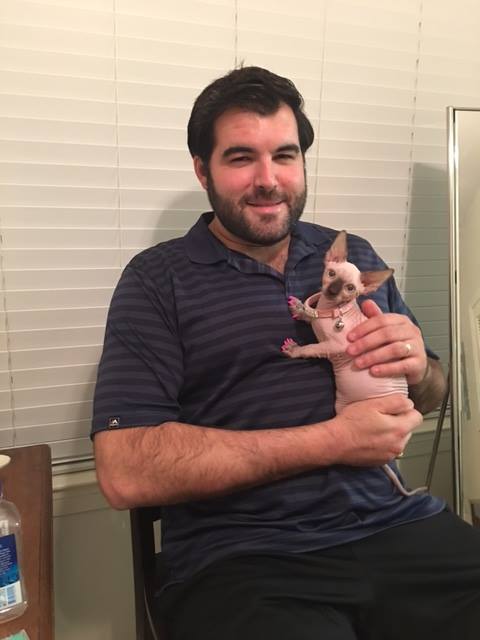 Brad Tillem, Pembroke Pines, Florida
Good Morning Nataliya,
The little girl is doing great! My family and I are so happy to have her!
Brad